Make a home for each family member to store their coats, bags, and shoes.
Divide your to-do list into four actions:
around the house - do
phone = call
at computer = write
in car = buy
Consistency is key. Do things on the same day at the same time. Make a routine.
Create a brain clutter list
Set aside 20-30 minutes of interrupted time where you write down everything in your brain. Then assign tasks and put them on your to-do list.
Does neglecting it brings public embarrassment?
Does neglecting it hurt organizational morale?
Is it significant as far as making a visual impression?
Does the detail serve to inspire you?
If the detail is not part of a larger organizational plan, it is not a priority.
Does the detail hold up the organizational flow?
Does neglect cause chronic stress?
Is detail part of the larger picture?
Household Cleaning Tips
Clearing a surface makes a huge difference.
Start on the floor, clear everything. Put the stuff away, then move up to the next highest surface, work until it is clear, repeat until you reach the counters. On a counter, start right and move left.
Remove everything not needed in the room.
Take a photo of a clean bathroom and add to it a list of cleaning chores. Likewise, make a list of things that make the house look dirty. Do this list every day. Also, map out the rooms of your house on a chart of 1-5 where 1 is well organized and 5 needs lots of organizing.
Make a WHATZIT box for random stuff we need.
Toys not in their area, go to jail. If never rescued, it leaves the house. To get the toy out of jail, the child must do a good deed.
Keep creative toys, ones with multiple uses.
Good Habits
Do four things in the morning.
Do four things at night.
If you get it out, put it away.
Look, really look at your surroundings.
Recommended Books
Taming the Paper Tiger at Home - Barbara Hemphill
The Organized Parent - Christina Tinglof
Bibliographical Information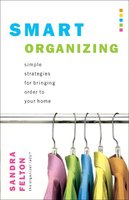 By Sandra Felton
2005, Revell Books, Grand Rapids MI
0-8007-5978-8 and 978-0-8007-5978-0
These are notes I made after reading this book. See more book notes
Just to let you know, this page was last updated Wednesday, Oct 04 23