Create a household journal.
What do you need? Yearn for? What works and what doesn't work?
Entryway: it is a room. Need space for coats, shoes and bags. Surfaces should be free of clutter. Try a large mirror.
Hallway could be a gallery of photos. If so, you need good lighting. Try displaying children's art.
Record food preferences and gift ideas in your house journal.
Gift wrapping - brown kraft paper, glossy finish white paper and matte (or shiny) silver paper. Stock up on interesting ribbons, raffia, skinny silk cords and other pretty ties.
Add an attractive topping to the present (i.e. baby hat for a shower; paintbrushes tied with twine for the child; green satin ribbon and red Christmas tree balls with white glossy paper).
Storage - use coloured tape on Rubbermaid containers. Ex. green and red for Christmas.
Holidays - instead of a wreath, try a flat-backed basket with holiday trimmings.
Buyer's Guide
Bibliographical Information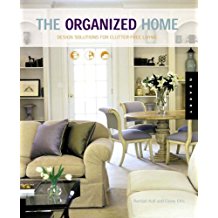 Author: Randall Koll and Casey Ellis
Publisher: Quarry Books (Sept. 1 2005)
ISBN: 1592532020
These are notes I made after reading this book. See more book notes
Just to let you know, this page was last updated Saturday, Dec 02 23